FLASH FICTION
SUNDAY ROAST
          Sunday roast–lamb, I think–sizzling in the oven. I skip into the kitchen, looking for tidbits. Dad and Mum are fighting.
          "I've told you and told you," Dad says. "You won't listen, will you?"
          I stick a finger into the saucepan. Mum, silent as usual during Dad's tirades, slaps my hand with a wooden spoon.
          "Any time you leave the help alone in the shop, they steal cigarettes. Every time I do a bloody stock take, it's the same thing. We're down two hundred Marlboro. Where did they go? I'd like to know!"
          I lick the gravy off the back of my hand. Mum bends over to get something from the cupboard.
          "You can't trust anybody," Dad says.
          In the cupboard, behind the gravy granules, I catch a glimpse of something. It's a carton of two hundred Marlboro.
                                                            THE END
Published in the U. of Machias at Maine Ultra-Short Competition '05
                                                                RED
                                      (Pastiche of 'Green' by Virginia Woolf)
The red, chapped skin cracks. A rivulet of blood slides down over the whorls of lines, and settles in a single, red bead. All day long gleaming pink lesions split and shine, tributaries twist and trace maps of criss-cross waterfalls. The sharp blades of razors, reflecting red, flicker and flame, flip-flap, stinging loud in the afternoon sun. But the thickening blood shimmers a necklace on unbroken, brown skin, one shoulder lifts in disdain, an eyebrow goes with it; the sudden punch jerks her chin up, flips her back, she lies there, watches the red sky, until stars come out, unbroken. Evening comes, and a field grows from seed, flowers puff up into glossy red blooms that wave and sigh, the ruffled surface of a blood-red ocean. No ships come, no-one to save her, waves curdle beneath the gaping sky. It's night. The rivulets leak, spill beads of white. The red's out.
                                                               THE END
Published in Equinox #19 
http://poetrymagazines.org.uk/magazine/recorda09c.html?id=22848
Tessa…captures our attention in the opening lines of each story, she has us by the collar until stories end. All of this in the short story format that so few writers have mastered as well. . .What endears us most to these beautifully crafted stories…is the manner in which Tessa provides a light in the tunnel that allows her characters to not only see alternatives but also illuminates the innate humor in life as we live it. Highly Recommended.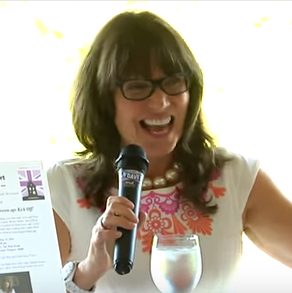 Tessa Smith McGovern is an award-winning writer who has taught writing for 22 years and, for the last ten years, at the Writing Institute, Sarah Lawrence College, NY.
Tessa's award-winning linked short story collection, LONDON ROAD: LINKED STORIES, received a 'Featured' review from Kirkus, is an Amazon best-seller, and a gold medal winner in the 2012 eLit Awards. Her non-fiction book, COCKTAILS FOR BOOK LOVERS (Sourcebooks), is also an Amazon best-seller.
Her publication credits include the Connecticut Review and Equinox, a UK poetry journal archived by the English Arts Council at the Southbank Centre, London. (See 'About' page for more.) She's currently writing a contemporary fantasy novel inspired by British mythology and pursuing her MFA in Writing at the Vermont College of Fine Arts.
She is founder and editor of eChook Digital Publishing. eChook won a silver medal in the 2012 eLit Awards and its stories have been read by thousands of readers in 100+ countries.
Tessa is also host of BookGirlTV (BGTV), an award-winning digital channel that offers book reviews and craft lessons for writers. BGTV has 6 million+ minutes viewed on YouTube.
BookGirlTV's YouTube channel features tips for writers and interviews with popular authors such as Dani Shapiro, Jane Green and Pulitzer prize-winner Anna Quindlen.
Tessa empowers writers to let go of self-doubt and relish their creativity as they write and publish their stories online through her online studio, Bloom Writers' Studio, which has 10K likes on Facebook.
She was born in England, moved to the United States in 1993, and published her first short story in 1996. She's currently working on a YA urban fantasy novel with talking animals that's inspired by British folklore. She lives in CT with her family, a black lab, and a black and white Maine Coon who actually can talk.
For more information, please email Tessa at tessasmithmcgovern @ gmail.com
What Readers Are Saying About 'London Road: Linked Stories'
This author is talented. Her characters are sometimes appealing and sometimes appalling, but never boring. I hopes she keeps writing. She won't make a fortune writing short stories, but she'll attract a grateful following of readers hungry for well-written stories. I was so sorry to come to the end of this book and I would be happy to buy a sequel.
McGovern has a way with language and dialogue that is fully convincing and absorbing, you want to know more about every individual in this collection. Another collection of stories with these same characters would be a welcome follow up. Highly recommend for an interesting, quirky, and satisfying fictionalized account of boarding house living in a not so nice part of London.
Uplifting stories who warm the reader's heart and gives us all a little hope.
What a great collection of stories. At first, I thought that only sixty pages is really short, but I would rather have a handful of excellent stories than double that amount where some of them are just filler. The writing is really skillful, the details of London life are vivid and everything flows perfectly. I really recommend this book, read it slowly and enjoy every page, it is worth your time.
When you think halfway house, you most likely picture some recently released gang members and tough macho guys full of tattoos and bad intentions, but this book is a breathtaking new take on an old stereotype. We meet a host of colorful and varied characters who all are residing at a halfway house in London. They are definitely not what you pictured and they all have a story to tell. The characters humanizing qualities lets you connect with each one in different ways and you will be sad to see the stories end. I truly enjoyed this book and liked the way the author was able to bring her own experiences of growing up in her parents halfway house, to the table and open our eyes to some more of what humanity has to offer.