"Whatever way you take in the words of McGovern, just make sure you do. Her stories link the lives of residents in a halfway house on the outskirts of London. Based largely on McGovern's own experiences (her mother operated a halfway house in South London), her characters come alive through a style that is unique and lovely. McGovern uses words both easily and luxuriously and her ability to evoke place, emotion, and possibility all within the confines of a very short story is amazing. I felt as if I personally knew each character, from Janice to Nora to Isobel to Bitty, and even Len down at the pub, and I cared about them all." Nina Sankovitch
About the Series
On the morning of her release from prison, the hottest day on record in England, Janice Bailey makes her way to a boarding house in London, and discovers a bizarre new world.
This moving collection of linked short stories begins with 'When Janice Bailey Walked', an award-winning story first published in the Connecticut Review, and continues with six more stories as told by the eccentric residents of Number 17, London Road, thus illuminating a little-known side of the most beautiful city in Europe.
During the course of one day, we meet Bitty, a college drop-out now working in an antique shop, waiting nervously in an Italian restaurant to find out if her American boyfriend is about to dump her. And Nora, the landlady of the boarding house, a romance novelist obsessed with the Queen, who finds herself hotly pursued by Len, landlord of the local pub. Then there's Anna, Nora's teenage daughter, waiting all alone at netball camp because her mother, otherwise engaged, has forgotten to collect her, and Isobel, daughter of a Shakespearean actress, in the aftermath of a crisis. Finally there's Mandy, who must choose between a life of crime or an alternate path.
In seven short stories, residents of a London boardinghouse reach moments of clarity. On London Road, lined with scruffy shops, stands No. 17, a detached red-brick Victorian that's been turned into a boardinghouse. Its residents tend toward hard luck and desperation: Janice is just out of prison; Mandy is on probation; Bitty has a good education, but is scarred by her mother's frequent abandonments; and Isobel is mentally unstable. Nora, the landlady, writes romance novels but has experienced little romance herself, and her daughter, Anna, is disgusted by Isobel's outbursts.
Their interconnected stories take place on a day of unusually hot weather, and focus on one resident at a time, with Janice's story told in two parts. In each, characters have a chance to make a leap of faith in other people, or in the future…
Though spare and fast-paced, McGovern's (Cocktails for Book Lovers, 2014, etc.) tales evoke entire biographies. She focuses on illuminative details and subtle, turning-point moments, as when Mandy, a young woman on probation, reacts to her mandatory book group's reading of Katherine Mansfield's 1922 short story "The Garden Party." It stokes her resentment, as she doesn't even know if people still give garden parties. Mandy makes plans to shoplift again, but something about the book group leader's hopefulness and the invitation to give her honest opinion sparks her determination to win–maybe a literary argument, or maybe more chocolate wafers. Tales with subtle, positive but never saccharine transformations that feel fully earned.
-Kirkus Recommended Review
EXCERPT: When Janice Bailey Walked
The day Janice Bailey was released from prison was the hottest Friday on record in England. Even at eight thirty in the morning, heat waves rippled across yellow and brown fields and, as Janice walked away from the metallic clank of the closing door of Chorley Prison, her white pumps stuck to the black top, and birds sat silently in the trees.
She paused, remembering what she had been told: 'Turn left outside the gate and keep going for twenty minutes until you come to the train station.' The prison was off the bus route, so if no-one met you, you had to walk to the station in Chorley and catch a train to – where? London, Janice supposed. She hadn't made any plans. What was the point? She was a fifty seven year old convicted criminal with no family – her parents were both dead and she'd never had children – and no prospect of a job. Who would want to hire her? She'd tried to ignore her release day, creeping nearer, because, if she had a choice, she would rather stay in prison.
Janice swung the Tesco's carrier bag over her shoulder and started walking. The bag contained everything she brought with her five years ago: three £20 notes, her building society passbook which now held £1,113.23 (interest at 2%), a soft denim purse complete with Shining Red lipstick and a regular tampon plus keys to a flat she no longer rented and a photograph of a man she no longer loved.
Tessa…captures our attention in the opening lines of each story, she has us by the collar until stories end. All of this in the short story format that so few writers have mastered as well. . .What endears us most to these beautifully crafted stories…is the manner in which Tessa provides a light in the tunnel that allows her characters to not only see alternatives but also illuminates the innate humor in life as we live it. Highly Recommended. Grady Harp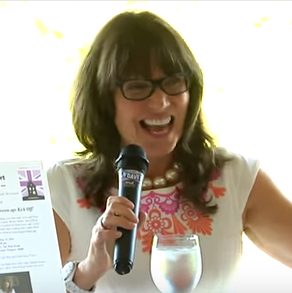 Tessa Smith McGovern is an award-winning English writer and host/producer of BookGirlTV. She's the author of two Amazon best-sellers; the short story collection London Road: Linked Stories (eChook Digital Publishing), and Cocktails for Book Lovers (Sourcebooks). She taught for six years at The Writing Institute, Sarah Lawrence College, NY, is the founder of eChook Digital Publishing, and co-founder of the Fairfield County Writers' Studio in Westport, CT.
This author is talented. Her characters are sometimes appealing and sometimes appalling, but never boring. I hopes she keeps writing. She won't make a fortune writing short stories, but she'll attract a grateful following of readers hungry for well-written stories. I was so sorry to come to the end of this book and I would be happy to buy a sequel. Whistlers Mom
McGovern has a way with language and dialogue that is fully convincing and absorbing, you want to know more about every individual in this collection. Another collection of stories with these same characters would be a welcome follow up. Highly recommend for an interesting, quirky, and satisfying fictionalized account of boarding house living in a not so nice part of London. V.E.
Uplifting stories who warm the reader's heart and gives us all a little hope. Jennifer Stolzenberg
What a great collection of stories. At first, I thought that only sixty pages is really short, but I would rather have a handful of excellent stories than double that amount where some of them are just filler. The writing is really skillful, the details of London life are vivid and everything flows perfectly. I really recommend this book, read it slowly and enjoy every page, it is worth your time. Sanjin
When you think halfway house, you most likely picture some recently released gang members and tough macho guys full of tattoos and bad intentions, but this book is a breathtaking new take on an old stereotype. We meet a host of colorful and varied characters who all are residing at a halfway house in London. They are definitely not what you pictured and they all have a story to tell. The characters humanizing qualities lets you connect with each one in different ways and you will be sad to see the stories end. I truly enjoyed this book and liked the way the author was able to bring her own experiences of growing up in her parents halfway house, to the table and open our eyes to some more of what humanity has to offer. JA Armstrong