Perfect for talking about at your next book club meeting or while crafting these cocktails with friends.
Tessa Smith-McGovern['s]… newest project shares drink recipes inspired by authors, quenching the thirst for both a great read and a satisfying libation.
About the Book
The perfect pairing for anyone with a literary thirst!
From Jane Austen's little-known fondness for wine to Hemingway's beloved mojitos, literature and libations go hand in hand. Cocktails for Book Lovers blends these in a delectable book that will delight both readers and cocktail enthusiasts alike. This irresistible collection features 50 original and classic cocktail recipes based on works of famous authors and popular drinks of their eras, including Orange Champagne Punch, Salted Caramel and Bourbon Milkshakes, and even Zombie Cola. So dip in, pick your favorite author or book, and take a sip―or start at the beginning and work your way through. Cheers!
Cocktails inspired by your favorite authors:
Isabel Allende (Madrina's Banana Rum)
Emily Bronte (Heathcliff's Crush)
Willa Cather (Peter's Whiskey Cocktail)
Collette (Classic Mulled Wine)
Charles Dickens (Mr. Micawber's Hot Gin Punch)
Ernest Hemmingway (Mojito)
F. Scott Fitzgerald (Gin Rickey)
James Joyce (Ruddy Mary)
Wally Lamb (Manhattan)
Katherine Mansfield (Iced Passion Fruit)
Joyce Carol Oates (Zombie Cola)
Mathew Quick (Beer Margarita)
Mary Shelley (Frankenstein's Berry punch)
Elizabeth Taylor (Pear Smash)
Anne Tyler (Ian's Cherry Cola)
Virginia Woolf (Fitzroy Fizz)
Dan Zevin (Kir Royale Champagne)
And 40 more!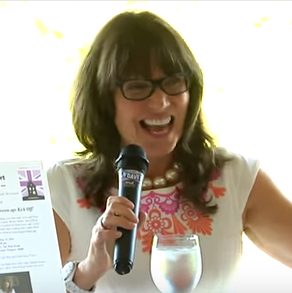 This book is perfect for anyone wanting to mix up a little libations while reading over a long weekend – or for book clubs, looking to spice up the refreshments at their next meetings.
This book is a delight from beginning to end. Filled with cocktail recipes and anecdotes from both contemporary and classic authors, the reader can transport themselves into the lives of various writers while sipping his or her favorite drink. I am amazed at the research that Ms McGovern carried out in order to bring these delicious treats to us, and look forward to 'themed' evenings with my book group. Cheers!
I confess: buying "Cocktails For Book Lovers" by Tessa Smith McGovern for a gift and wanting to keep it for myself! This is a delightful collection of authors and literary achievement featuring quick highly informative biographies, info/book lists, colorful cocktail/drinks (with recipes) associated with the writer or authorship. This is a perfect gift for any reader who enjoys relaxing with "literature and libations". I'll be getting a copy for myself soon!
A MUST read for anyone in a book group! Perfect for picking new books, providing invaluable author bios, and pairing a perfect cocktail compliment. This book ignited my book group.