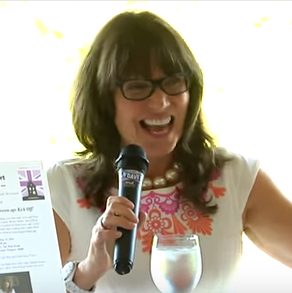 Tessa Smith McGovern is an award-winning English writer and host/producer of BookGirlTV. She's the author of two Amazon best-sellers: the short story collection London Road Linked Stories (British Short Stories category), and the traditionally-published Cocktails for Book Lovers (Cocktails/mixed drinks category). She taught for six years at The Writing Institute, Sarah Lawrence College, is the founder of eChook Digital Publishing, and the co-founder of the Fairfield County Writers' Studio.
Currently, she's pursuing an MFA in Writing from the Vermont College of Fine Arts and is working on a fantasy novel about selkies.
Tessa was born in Surrey, England, shipped off to boarding school at 11, and left home for good at 16. She worked as a sales assistant in a jewelry shop, a secretary in a second hand car dealership, and sang in a band. At 22, she lived in Spain for a year, working as a waitress, followed by a year in Austria as a nanny, then a tour guide. She moved to the United States at age 30.
Her first short story was published in 1996. Many of her early stories were short shorts, sometimes referred to as flash or micro fiction. They were very short, between 100 and 750 words. Tessa believes that "A short short is like a poem. Every word matters. I love the way they can capture those moments when the 'cotton wool of daily life' parts to reveal something unexpected."
After a few years of publishing short shorts in literary magazines, Tessa began to notice a tendency towards what she calls catastrophic thinking. It dominated her short-short stories and had started to seep into her daily life. "One day," she says, "I was walking my dogs on the beach and saw a helicopter appear on the horizon. I imagined it firing at me, shots landing on the beach, fountains of sand gushing like tiny oil wells into the air. My heart started to pound and my face and chest got hot, and I realized my imagination wasn't doing me any favours."
That's when she began writing longer pieces of about 1500 words. These, she felt, would give her more dramatic options. "By accident, I discovered there are two types of short short stories. There are the snapshot stories that fully describe a moment, like Virginia Woolf's 'Green', that are usually up to 750 words in length. Then there are the longer short shorts, often between 750 and 2000 words, which have a beginning, middle and end." She found that stories with a more complex narrative required some plotting, and that the rapid-fire, spontaneous eruptions of imagination became diluted by more leisurely periods of consciously-directed thought. "The flood of characters and situations slowed down for me, and the writing process turned into a delightful balance of plot and inspiration."
Then she discovered humor. "One day, I read about a group of senior citizens in England who were stealing all the free biscuits at their local cinema every Wednesday morning. The cinema handed out a letter, reprimanding them for being biscuit-thieves, and they were deeply offended. It was so funny I put it into a story called 'Hissing Sid' and was amazed to find that, every morning, I couldn't wait to work on it. Now I strive to pinpoint those moments when reality and happiness meet. Life can be painful, but there are times when things turn out well. I've discovered that there's always something funny lurking nearby, if I can relax enough to see it."
Publications
United States:
Connecticut Review, CellStories.net, The Dirty Goat, RiverSedge, Studio One, The Distillery, BCtheMagazine, Happy, Georgia State University Review, Portland Magazine
United Kingdom:
First Offense, Carillon, Lucid Moon, Equinox (archived by the English Arts Council, Southbank Center, London)
Awards:
2011 – Gold Medal, eLit Awards, 'London Road: Linked Stories
2009 – Winner, Connecticut Press Club Creative Writing, 'When Janice Bailey Walked'
2005-2008 – Honored Writer, the Annual Ultra-Short Competition of the Binnacle (University of Maine at Machias)
1996 – Honorable Mention, the Abiko Quarterly with James Joyce Studies, 'Night of Glass'